Come Visit my Homeschooling Fun Site,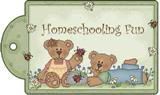 whenever you have time.
I have been quite actively updating it recently... I'm in the midst of working out the lesson plans based on the Before Five In A Row curriculum, in which I wish to share the lapbook ideas with all who wish to just do something simple with their little ones at home using the story books.
BFIAR is design for children age 2-4 yrs old... ideal for preschoolers... ;)
Lapbook are basically a few mini books of things the children could learn and crafts they could work on based on the story they have read and then being put together into a big 'book'(ie. lapbook).
This will serve as some form of 'enrichment' lessons for the little ones...and lapbooks can be kept for future references... the kids could use them later on to refresh their memory on what they have learnt.
I am also planning to work out a craft corner especially for the toddlers to preschoolers... this is in the pipeline of my preparation to do all the activities with Tim... so hope to share it with all who are interested... ;)